The vagina is self-cleaning – so why does the 'feminine hygiene' industry exist?
From talcum powder to jade eggs and douches, an industry has grown up to sell products – some of which are harmful – that play on women's fears about being dirty or smelly
By Rose George (The Guardian UK)
Which of the following should go nowhere near your vagina: a penis, a finger, a tampon or talcum powder? According to a jury in Missouri in July, it is the talc: the court found in favour of 22 women who claimed their ovarian cancer had been caused by their use of Johnson & Johnson baby talc, because it contained asbestos. The women were awarded $4.14bn in punitive damages.
This is not the first time a court case has found in favour of a woman claiming talc is carcinogenic: a California court did so last year, although the decision, also against J&J, was overturned on appeal and a new trial granted. According to a spokesperson, J&J "remains confident that its products do not contain asbestos and do not cause ovarian cancer and intends to pursue all available appellate remedies".
Talc consists mostly of the mineral silica. However, because silica and asbestos are often mined near each other, talc could be contaminated with asbestos. The claimants' lawyers in the Missouri case presented evidence that microscopic asbestos fibres had been found in many of the women's ovarian tissues. "J&J sells the same powders in a marvellously safe corn starch variety," said Mark Lanier, the lead lawyer, after the verdict. "If J&J insists on continuing to sell talc, they should mark it with a serious warning." Six of the 22 women are already dead.
Deathly baby powder sounds like something Q would make for 007, but the idea that talc could be linked to cancer has been percolating for decades, although conclusions are still debated vigorously. Some studies have found a slightly increased risk; others have not. An NHS analysis in 2016 said it was "plausible that talc could work its way up into the upper genital tract and have some type of biological impact"; Ovacome, a charity that works to reduce ovarian cancer, does not believe a link has been proved. It says: "We still do not know what really causes ovarian cancer. But it is likely to be a combination of many different inherited and environmental factors, rather than one cause such as talc."
So, while assertions and evidence continue to be thrown around, here is another question: why is any woman putting talc inside her vagina or on her vulva? (The vagina is a tube of muscle that joins the cervix and the vaginal opening; the vulva is the exterior genitalia.)
The vagina is an amazing organ. It is lined with a mucous membrane that protects against infection (necessary in any part of the body that opens to the outside world), as well as a clever, complex mix of bacteria – also known as vaginal flora – that does the same thing (only the bowel has more bacteria than the vagina). Together, they keep the vagina healthy. It is self-cleaning, too, keeping itself safe and hygienic with secretions. (One day, I will get used to gynaecologists referring to my vagina as "a self-cleaning oven".)
All women have a DIY vagina-vulva-wash of mucus, which can vary in appearance and volume throughout the menstrual cycle. It is mostly highly effective, except in the case of infection, including STIs, which can be signalled by a change in colour, thickness or odour. (Odour can become slightly muskier due to exercise or sex; if anything is noticeably different, or you itch, get a medical professional to check it.) But you would not know about our natural powerwash from the size and value of the industry that has grown up to tell women we smell.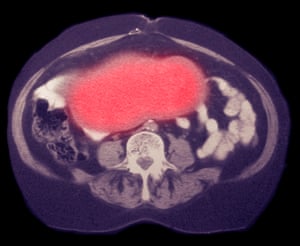 Of course, we all like to feel fresh and clean, particularly when we are bleeding. But for decades what is called the "feminine hygiene" industry has worked hard to increase our fears that we are not. Seventy years ago, women were being sold Kotex products that would make them feel "tangy". Nothing has changed. Show me a sanitary pad or a tampon campaign that does not use the word "fresh" and I will swallow a bottle of vinegar douche. For every mention of "fresh", look for the fear at which it is aiming: fear that we smell of period blood or are leaking; fear that we smell in general; fear that our sexual partners will mock or reject us because of what our vaginas and vulvas look or smell like. The jingle for baby talc was "a sprinkle a day keeps the odour away". There is a reason that "you smell" is one of the most powerful playground taunts: it is the accusation we fear most and the hardest to protest. We all fear fishy.